Kappa League Co-Chairs, Brothers Carl Clark, Jr. and Lamar Crawford, asked the membership of the Charlotte Alumni Chapter of Kappa Alpha Psi to support the
Guide Right Program
 in a "Career Day" via a video conference on Saturday, February 13, 2021. Due to the COVID-19 pandemic, the Brothers have not been able to meet with the Kappa Leaguers in person. However, the pandemic would not deter the Nupes from providing critical role modeling to the youth of the Charlotte Community.
The goal of the virtual interaction and conference was to expose the members of the Kappa League and their parents to a diverse set of occupations available to them as the young men matriculate through middle and high school. The event exposed the Kappa Leaguers to men who are in popular occupations like medicine, military service, teaching and law enforcement as well as lesser known ones like supply chain or IT consulting. The brothers of the Klass Act Chapter were able to talk about 12 different career fields during the two-hour call, showcasing key characteristics of each with hopes of inspiring the young men to aspire to a career in one or more of them.
Brother Clark facilitated the call and set the ground rules. Brothers who participated were limited to 3 minutes to discuss their careers and then were asked two questions:
"If someone is interested in doing what you do, what is one piece of advice you would give them?"; and
"What is a common belief or misconception about your work that you want to change?"
Once the brothers answered the questions, the floor was open for any questions from the Kappa Leaguers or their parents.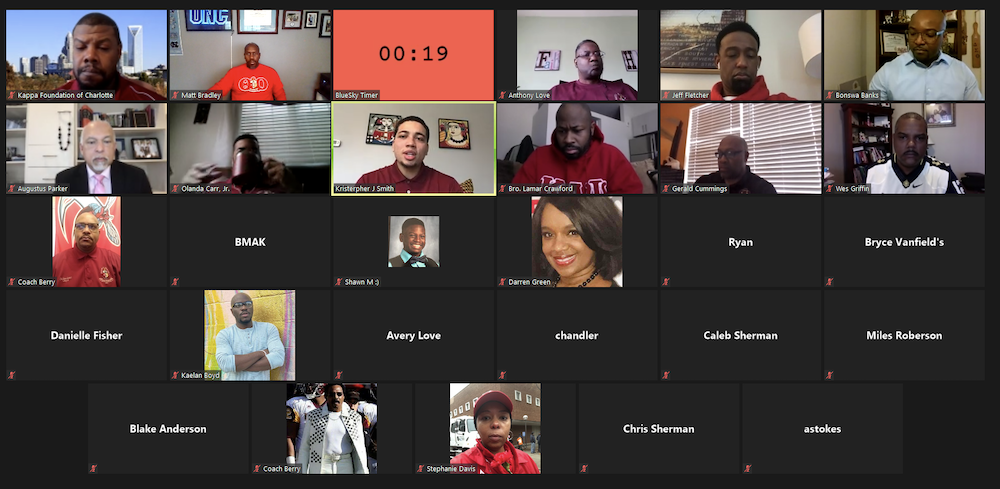 The Career Day was truly engaging and a testament to a key objective of Kappa Alpha Psi which is "to encourage honorable achievement in every field of human endeavor." Brothers astutely presented and represented their careers, and enthusiastically gave examples of excellence in their chosen career endeavors. The Charlotte Alumni Chapter brothers who participated and the careers that they discussed are as follows:
Kristopher Smith – Commercial Banking
Wes Griffin – Military Service (Navy)
Khalil Parker – Clergy
Bonswa Banks – Real Estate Broker
Gerald Cummings – Math Teacher
Jeff Fletcher – Law Enforcement
Matt Bradley – Supply Chain Consulting
Anthony Love – Information Technology Consultant
Kaelan Boyd – Local Government Budget Analyst
Dr. Augustus Parker – Medicine
Jeff Berry – Athletic Coaching
Brian McClammy – Field Merchandising and Planning
Guide Right encompasses many of our youth-oriented programs such as mentoring, college preparatory programs, and tutoring. However, the Flagship Initiative of the Guide Right Service Program is the Kappa Leadership Development League (Kappa League). Guide Right is a program of the educational and occupational guidance of youth, primarily inspirational and informative in character. The purposes of the Guide Right Service Program is to place the training experience and friendly interest of successful men at the disposal of youth needing inspiration and counsel regarding their choice of a life's career, and to arouse the interest of the entire community in the problems of youth as they seek to realize lives of usefulness.